QT2 Drills - Documents and Videos
This is where you will find what QT2 considers to be the most important drills, aimed at some of the more basic skill elements of swimming, biking, and running.
Running Videos and Documents
Hill Bounding

See Hill Bounding - HERE

Purpose:

The purpose of Hill Bounding is to help the athlete develop running strength and technique. Hill Bounding creates an anabolic running environment, where the runner focuses on the development of their knee drive and push-off, as well as a forward leaning chest. While the purpose of this exercise is to work on strength and technique, the runner understands that this is a high-intensity running drill, and not a mechanically efficient means of climbing a hill.
Swim Drills/Cords - Videos and Documents
Swim Cord Strength Routine
When learning the half pull, keep your movement slow and controlled with very light resistance. Then add speed to the half pull. Then add resistance to the half pull. Same for all the exercises. The long-term goal should be to train the muscles so you can bring the quickness of the catch into your swim stroke.
Strength routine should include two sets each of: 
*Front Half Pull 
*Back Half Push 
*Standing Straight Arm 
The 2 sets of each exercise should be as follows: 60 seconds on, 60 seconds off. Athletes MUST hold 100% perfect form at all times. Most important is to maintain a high elbow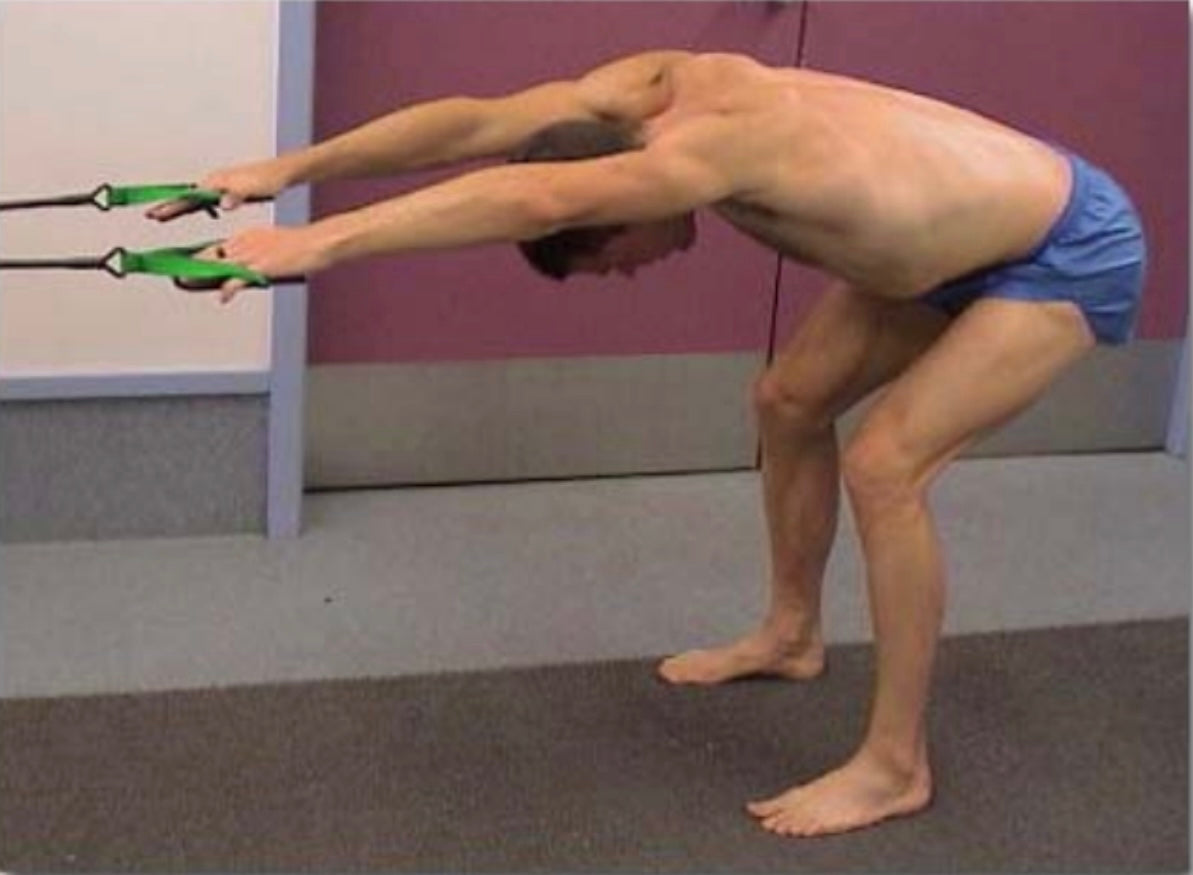 #1 - Front-Half Pulls
Set cords up as for full pulls. Arms extended until cords are 'just' tight. Elbow stays perfectly still while forearm rotates forward and down. Elbow stays high and still, hand remains aligned with forearm, arm/forearm/hand all rotate slightly outwards. Elbow does not move back. All movement is done with forearms. Goal is to build very front-end strength. 
Head position is a bit low. Look down and slightly forward.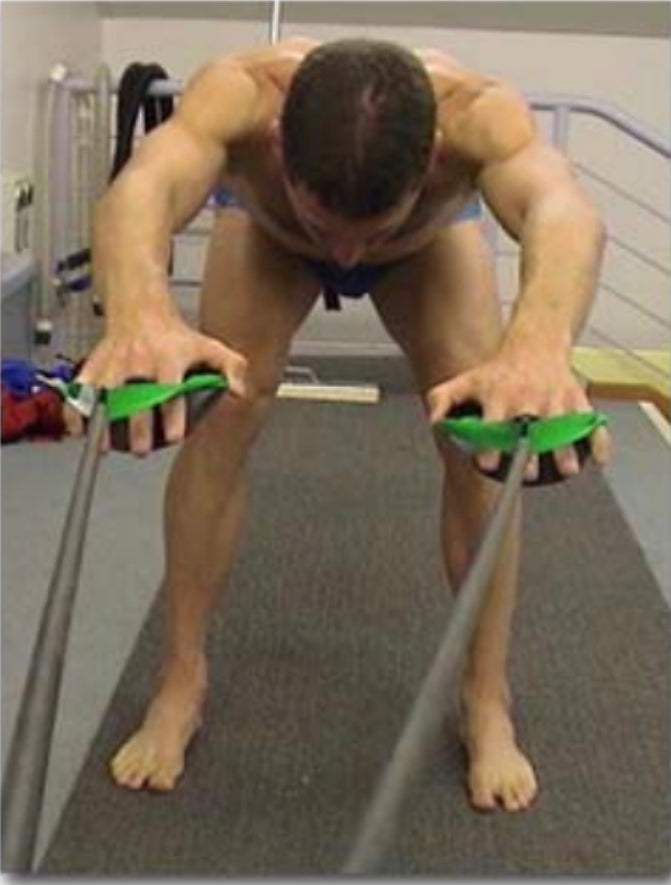 Step One:
Starting Position -- shoulders are high relative to hips, perhaps a higher tie point. Goal should be aligment of hip/shoulder/wrist at the start.
Step Two:
Ending Position -- very good.
#2 - Back-Half Pushes
Set cords up as for front pulls.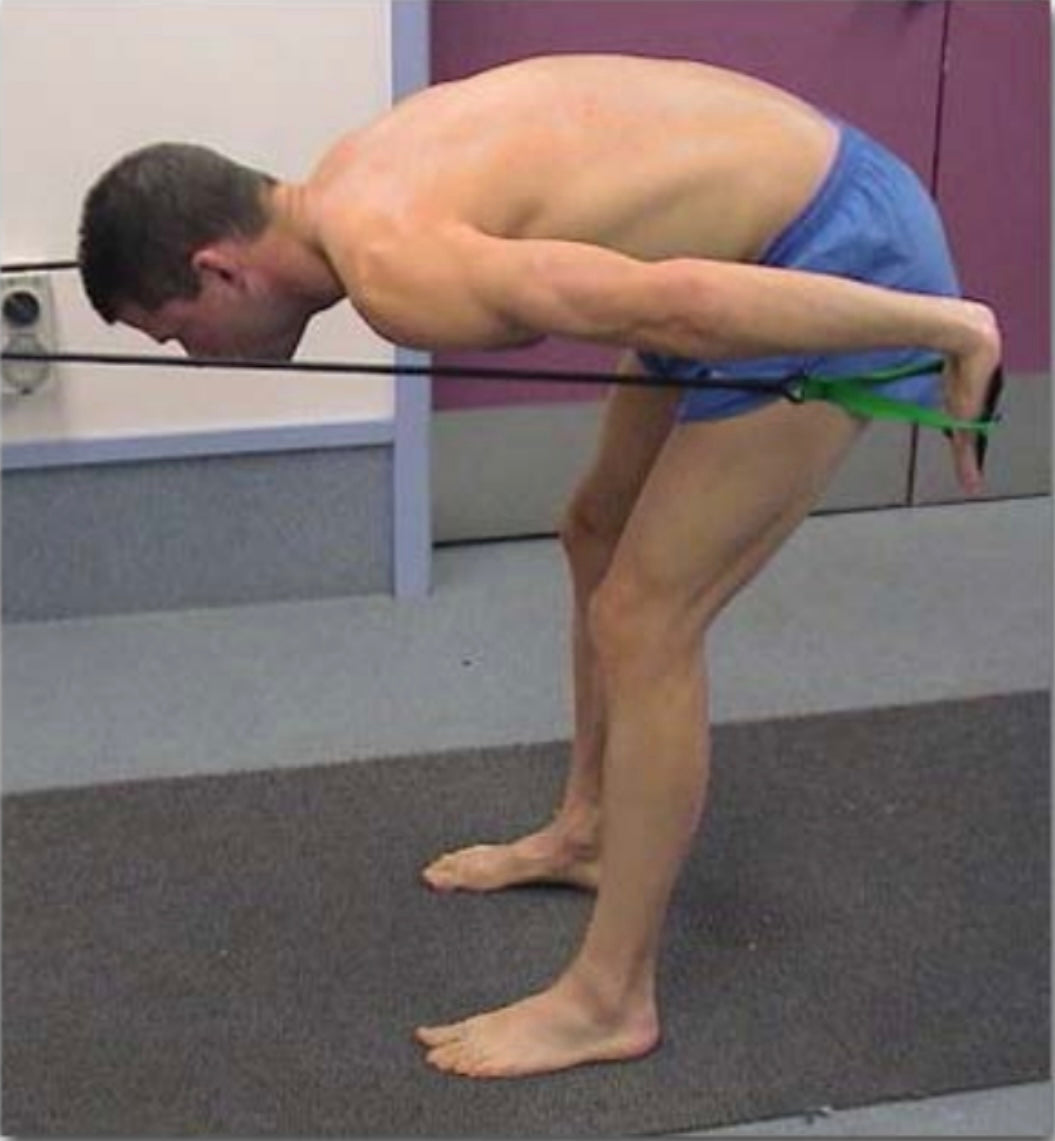 Step One:
Start at high elbow front half pull finish. Engage lats, and then triceps. Goal is to build very good back end strength.
Step Two:
Careful observers of this progression will see that the hands are always pointing straight down. The palm is always pointing straight back.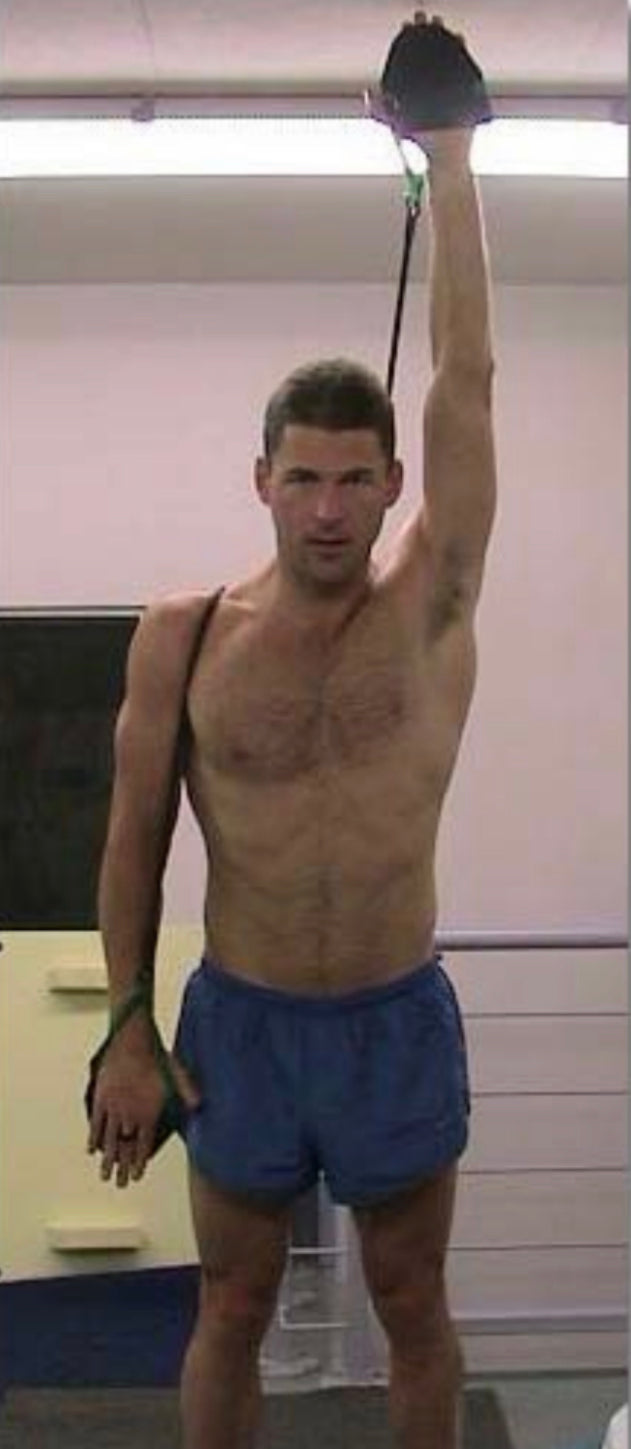 #3 - Standing Straight Arm
Face away, both arms straight with hands over head, alternate arms, arm moves in a semi-circle from 12 to 6 o'clock.